China-linked threat actors UNC215 targeted Israeli organizations in a long-running campaign and used false flags to trick victims into believing the attacks was from Iran.
A China-linked cyber-espionage group has targeted Israeli organizations and government institutions in a campaign that began in January 2019.
The attacks were detailed by cybersecurity firm Mandiant, the state-sponsored hackers used false flags in attempts to disguise themselves as Iran-linked threat actors.
Mandiant experts tracked the group as UNC215, its TTPs overlaps the China-linked APT27 cyberespionage group, but they have no sufficient evidence to say the the two groups are the same
"In early 2019, Mandiant began identifying and responding to intrusions in the Middle East by Chinese espionage group UNC215. These intrusions exploited the Microsoft SharePoint vulnerability CVE-2019-0604 to install web shells and FOCUSFJORD payloads at targets in the Middle East and Central Asia. There are targeting and high level technique overlaps with between UNC215 and APT27, but we do not have sufficient evidence to say that the same actor is responsible for both sets of activity." reads the report published by Mandiant. "APT27 has not been seen since 2015, and UNC215 is targeting many of the regions that APT27 previously focused on; however, we have not seen direct connection or shared tools, so we are only able to assess this link with low confidence."
The UNC215 group exploited typically a flaw in Microsoft SharePoint, tracked as CVE-2019-0604, to compromise vulnerable installs.
Once gained initial access to the target infrastructure, the attackers performed an extensive internal network reconnaissance and harvested credentials to conduct additional malicious activities. Experts reported that the attackers also used a non-public network scanner named WHEATSCAN along with custom malware such as FOCUSFJORD web shell and HYPERBRO to spy on internal systems and maintain persistence within the target organizations.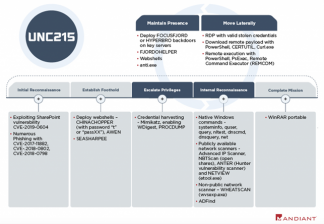 The group was very sophisticated and spent a significant effort to fly under the radar, such as removing malware artifacts. The attackers also use to insert in the artifacts foreign language strings as false flags.
"The use of Farsi strings, filepaths containing /Iran/, and web shells publicly associated with Iranian APT groups may have been intended to mislead analysts and suggest an attribution to Iran. Notably, in 2019 the government of Iran accused APT27 of attacking its government networks and released a detection and removal tool for HYPERBRO malware." continues the report.
In some attacks, UNC215 also used an Iranian hacking tool that was leaked on Telegram in 2019.
The interest of Chinese groups in the Israeli ecosystem is not surprising, Chinese companies have invested billions of dollars into Israeli technology startups.
Chinese organizations are also working on important construction projects in Israel such as the railway between Eilat and Ashdod, a private port at Ashdod, and the port of Haifa.
"The activity detailed in this post demonstrates China's consistent strategic interest in the Middle East. This cyber espionage activity is happening against the backdrop of China's multi-billion-dollar investments related to the Belt and Road Initiative (BRI) and its interest in Israeli's robust technology sector." concludes the report. "China has conducted numerous intrusion campaigns along the BRI route to monitor potential obstructions—political, economic, and security—and we anticipate that UNC215 will continue targeting governments and organizations involved in these critical infrastructure projects in Israel and the broader Middle East in the near- and mid-term."
Follow me on Twitter: @securityaffairs and Facebook

Pierluigi Paganini
International Editor-in-Chief
Cyber Defense Magazine
FAIR USE NOTICE: Under the "fair use" act, another author may make limited use of the original author's work without asking permission. Pursuant to 17 U.S. Code § 107, certain uses of copyrighted material "for purposes such as criticism, comment, news reporting, teaching (including multiple copies for classroom use), scholarship, or research, is not an infringement of copyright." As a matter of policy, fair use is based on the belief that the public is entitled to freely use portions of copyrighted materials for purposes of commentary and criticism. The fair use privilege is perhaps the most significant limitation on a copyright owner's exclusive rights. Cyber Defense Media Group is a news reporting company, reporting cyber news, events, information and much more at no charge at our website Cyber Defense Magazine. All images and reporting are done exclusively under the Fair Use of the US copyright act.