India Cloud Day; a debrief
by Jaison Augustin, Director, NetNex Global Private Limited
NetNex Global just drew the curtains on their debut edition of India Cloud Day 2021 to an overwhelming response from the attendees and the speakers in association. The event successful achieved the objective it set out to meet about The shift in Cloud from Infra Solution to Business Strategy, thorough this initiative.
India Cloud Day deftly covered aspects of Strategy, Security & Migration to provide a holistic approach to cloud adoption. Attended by over 200+ IT leaders from various industries across India, this half-day conference was able to drive prolific takeaways on versatile facets of cloud and cloud solution applications.
Led by Venkatesh Mahadevan, the opening keynote spoke on the future of cloud adoption. With most businesses taking up digital transformation, Venkatesh pointed out how business model and CX quotient are key to adapting tech including cloud offerings. The rest of the agenda covered panels on best practices in securing the cloud infrastructure, combining technologies as AI & ML to optimize the power of cloud and an impactful fireside on picking the right cloud configuration for every business.
The event saw contribution by leading Tech leaders as Abhinav Yajurvedi from Pharmeasy, Prasad Rao from Unacademy, Jai Daga from Sony Pictures, Amrita Gangothra from Ityukt, DheepakRajoo from RBL Bank, Kapil Mahajan from Safexpress, Manoj Sarangi from NSDL, Deepak Kalambkar from Safexpay & Sowjanya Shetty from Attitude Makeover, as speakers in the agenda.
Apptio, the chief partner of this conference made a significant impact on the discussion with their expertise into cloud technologies. Their cloudability suite of products that has purpose-built software to migrate confidently to the cloud and translate cloud spends into business value offers immense visibility, costs, and security benefits.
Dr.Subi Krishnan VP and GM Apptio stated that "Cloud Adoption in India, has accelerated as we embark into a post-pandemic era. However, the drive to Cloud now is to accelerate business outcomes and extends beyond the original premise of just reducing the total cost of ownership (TCO).
Migrations rarely go as planned. Understanding what to migrate and when to migrate is key.  Aligning the migration plan to company goals is critical. Apptio's solutions help organizations achieve this by creating a cloud strategy that helps organizations plan and execute their migrations on time and budget. Apptio works closely with cloud service providers including AWS (Amazon Web Services), Microsoft Azure, Google Cloud, and others to enable complete Public Cloud optimization.
Cloud Computing will continue to be a significant part of every organization's digital transformation strategy. Cloud is an iterative process of optimization, developing in efficiency and security bydesign, to align with business goals; both short and long term.  Hence, India Cloud Day is only just embarking on a long journey of enriching content and engaging connections.
The India Cloud Day was organized by NetNex Global Private Limited. NetNex is an India registered company specialising in integrated marketing and event solutions in the B2B space.
For on-demand access to this event content or/and more details on upcoming industry specific events, reach  info@netnexglobal.com.
About the Author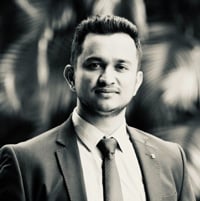 Hi, I'm Jaison Augustin. I'm a Director driving Partnerships & Alliances with NetNex Global Private Limited. I work with tech based B2B clients in strategizing and building their go-to-market journeys predominantly in the Indian market.
Jaison can be reached online at jason@netnexglobal.com and at our company website www.netnexglobal.com
FAIR USE NOTICE: Under the "fair use" act, another author may make limited use of the original author's work without asking permission. Pursuant to 17 U.S. Code § 107, certain uses of copyrighted material "for purposes such as criticism, comment, news reporting, teaching (including multiple copies for classroom use), scholarship, or research, is not an infringement of copyright." As a matter of policy, fair use is based on the belief that the public is entitled to freely use portions of copyrighted materials for purposes of commentary and criticism. The fair use privilege is perhaps the most significant limitation on a copyright owner's exclusive rights. Cyber Defense Media Group is a news reporting company, reporting cyber news, events, information and much more at no charge at our website Cyber Defense Magazine. All images and reporting are done exclusively under the Fair Use of the US copyright act.