By Manoj Arora, CEO & Founder, Difenda
The cybersecurity industry was a different place when I founded Difenda in 2008. I saw the same issue over and over again—companies misled by the cybersecurity "leaders."
Technology resellers promising the impossible. Vendors overselling functionality. Managed services focusing on the wrong things. A disconnected cybersecurity process. There was no uniformity in the industry and it led to poor customer experiences across the board.
I wanted to change that dynamic—to create a company that was all-in on the customer's outcome. This trend motivated me to start Difenda. Through this journey, I made an important discovery. I saw that the future of cybersecurity need to be an integrated, connected, and collaborative experience that unified departments and provided total visibility into the people, processes, and technology that drive companies forward. I knew this would be a sustainable strategy – and based on Difenda's growth over the last 13 years, we must have done something right.
Reinventing Managed Services
Let me start by saying that I passionately believe success in cybersecurity is a by-product of customers' success. Customer outcomes should always be the top priority.
So, how did we – Difenda – go from an unknown start-up to one of Microsoft's leading North American partners, and their go-to partner for complex Azure Sentinel deployments and MDR services? It comes down to the aforementioned success. Difenda started its first cybersecurity operations center in 2013. Since then, we have served a wide variety of customers in extremely data-sensitive industries like banking, finance, insurance, healthcare, and mining.
While most service providers offered managed services as an add-on to their product resale, we took a different approach. Focusing on customer success, we completely reengineered our managed service offering from the ground up, concentrating on integrity, sustainability, and the competence expected from a Security Operations Center (SOC).
Upon relocating our SOC to Oakville, Ontario, we doubled down on our customer success paradigm by building our ISO 27001 Cyber Command Center (C3) in 2016, using some of the most advanced security operations technology available. The following year, our continued success was recognized in 2017 when we were invited by Cyber New Brunswick's to establish a presence in Fredericton, New Brunswick, Canada, as part of a public-private partnership to fight cyber threats to critical infrastructure across the country. In dedication to this partnership, we established a secondary Cyber Command Center in Fredericton
Throughout our growth, we've retained our ISO 27001 Certification, SOC2 Type 2 Certification, and are one of very few highly certified Cyber Command Centers operating within North America. Difenda has been recognized by IDC Canada as a major cybersecurity service provider for the last five years in a row and has been featured in the Top 100 Canadian Companies several times in the past.
Why does our success story matter? The answer is simple – despite many companies making significant cybersecurity investments, there was still a substantial need for self-sustaing cybersecurity operations. Focusing on the customer – we always want to set them up for success, and as I stated earlier – if they cybersecurity customer is winning, the service provider is winning.
Our success highlights this need; Enter the rise of SecOps-As-A-Service and the shift to integrated cybersecurity.
SecOps as a Service: Defining the Next Generation of Cybersecurity
Despite our success, companies were still getting breached and hacked despite the millions of dollars spent acquiring "cutting-edge" cybersecurity toolsThis led to the rapid, unsustainable growth of conventional SecOps, forcing organizations to look at innovative ways to address their risk landscape.
It was clear, however, to us, thatdelivering a transformational, innovative approach to delivering sustainable cybersecurity operations was working. Here's how we at Difenda approach this problem streamlined service offerings to cater to an outcome-based approach. This was a deliberate decision made to focus on building deep-rooted capabilities in threat life cycle management, which included:
Threat Modelling
Threat Detection
Threat Response
And then the 'Ah-ha' moment in 2019. The critical moment still defines our strategy today. We partnered with Microsoft to beta test their latest solution—Azure Sentinel.
We knew our customers wanted to consolidate. They wanted better visibility into their cybersecurity processes. They needed to turn data into a competitive advantage to enable decision-making. They needed data to be accessible to justify decisions to internal leadership, boards, and other stakeholders.
What Microsoft was offering was the answer. It was the realized dream of a unified cybersecurity solution. It was the first real example of what SecOps as a service and integrated cybersecurity could be. It was the rise of the connected solution, one that leveraged all data available to allow companies to make the best decisions possible. It was a solution that best used the latest technological innovations.
We were sold.
We knew exactly what a unified Microsoft solution could do against modern threats. And since then, we've established deep expertise and capabilities in providing best-in-class MDR services using Microsoft's comprehensive portfolio of security technologies. And the best thing for our Microsoft clients? A service provider that focused on it.
Difenda Shield: A New Approach to a New Paradigm
We took that experience with Microsoft to revamp our cybersecurity offerings, and continue to offer sustainable, long-term solutions. The results? We created a fully integrated catalog of services through our Difenda Shield platform. This modular approach to SecOps leverages all of the data collected through other Difenda Shield components to provide full visibility of an organization's people, processes, and technologies.
Here's what our integrated cybersecurity solution looks like today:
Difenda Shield Portal: This is where all the mission-critical data is collected and processed to generate the powerful insights an organization needs to make the best security decisions. Every Difenda Shield component feed into this portal providing customers full visibility into their security operations live on demand.
Difenda Shield MDR (Managed Detection & Response): Being proactive is everything in cybersecurity today. Our MDR takes an active approach built around threat profiling, threat defense, threat hunting, threat response, and threat intelligence and is powered solely on the Microsoft Security suite of products. When paired with other Difenda Shield components, you get a powerful tool that uses data-rich insights to provide actionable outcomes enabling business relevant decisions.
Difenda Shield AVM (Advanced Vulnerability Management): This highly advanced and automation-driven platform continuously monitors, detects, and remediates vulnerabilities and configuration issues—providing real-time visibility into how vulnerabilities impact your organization, building detailed asset databases, understanding how to best prioritize vulnerabilities, and highlighting what steps to take.
Difenda Shield GRC (Governance, Risk, & Compliance): Having the best technology means nothing if you do not have the right foundation to support your people and processes. Difenda Shield GRC gives organizations the essential cybersecurity foundation they need to drive the required frameworks and compliance to help eliminate fatigue within the security program.
All of Difenda's capabilities form the basis of the Difenda Shield platform. This program is built upon the values of confidentiality, integrity, and availability to improve how we manage risks for our customers.
Today, Difenda is a Gold Security Services Partner for Microsoft with a growing presence in Canada, the USA, and Asia. With offices in all these regions Difenda is now enabling its customers across the globe in their fight against cybercrime.
Are you interested in learning more about the next generation of cybersecurity, MDR, and the new paradigm? Download our MDR eBook today.
About Difenda
Founded in 2008, Difenda is an industry-leading cybersecurity company with over a decade of deep expertise working in the most data-sensitive industries in the world. For the last five years, IDC Canada has recognized Difenda as a major cybersecurity service provider. As a proud Microsoft Gold Partner with two ISO 27001 certified Cyber Command Centers, SOC 2 Type 2 Compliance, along with other certifications and partnerships, Difenda has helped its customers build best-in-class, collaborative cybersecurity programs that empower their people, processes, and technology. Difenda is headquarted in Ontario, Canada with offices throughout Canada, the US, and Asia.
About the Author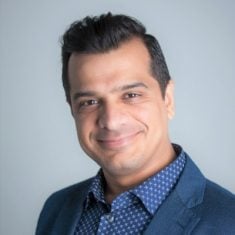 Not long after completing his Bachelor of Engineering, Computer Science, Manoj Arora wrote his first mobile banking application at only 23. At 25, he was appointed as the youngest Cyber Security Officer for one of the largest banks in Asia. After traveling across the world, he had the opportunity to design cybersecurity infrastructure for some of the largest global organizations. Manoj currently heads Difenda, a top cybersecurity firm operating across North America and Asia. He has witnessed the evolution of the cybersecurity industry, the rapid push for digital transformations, and offers powerful insights into the future of cybersecurity.
Manoj Arora can be reached on LinkedIn or our website – be sure to check out his Tedx Talk.
May 3, 2021