By Timothy Liu, CTO & Co-founder, Hillstone Networks
Hillstone is a leader in infrastructure protection. We offer a trusted, and cost-effective unified platform for end-to-end visibility, intelligence, and control. In a post-breach world where enterprise security is being reshaped by the reality that attacks and security compromises are a matter of "when" and not "if," Hillstone can help customers achieve cyber resilience by detecting and isolating attacks and facilitating rapid recovery. Hillstone's comprehensive security suite addresses emerging threats and serves to mitigate enterprise-wide risks while supporting mobility and work-from-anywhere initiatives.
Our approach, proven at over 23,000 enterprises worldwide, helps CISOs and security teams meet the challenges of:
An evolving threat landscape – Hillstone's integrated network detection and response (NDR) and extended detection and response (XDR) platforms tie together internal observations and alerts with external threat intelligence to create a holistic and comprehensive view of an organization's evolving attack surface and security posture, enabling deeper insight and increased ability to spot hard-to-locate and sophisticated multi-layer, multi-stage attacks.
Rapid infrastructure expansion – Hillstone offers complete protection across branch locations, employee homes, campus networks, and cloud data centers. Edge protection suites including software-defined wide area networking (SD-WAN), and zero-trust network access (ZTNA), complementing our industry-leading next-generation firewalls (NGFW). Hillstone's cloud workload protection platform (CWPP) extends across virtual machines (VMs), containers, and serverless application infrastructure, covering today's and tomorrow's enterprise workloads.
Growing regulations and compliance demands – Increasing security and compliance mandates can be met through Hillstone's extensive solutions that serve any location, protect any platform, and any application hosted anywhere. Manage security risks within enterprises with complete user, application, and device visibility to see everything regardless of location.
Limited budgets, talent recruitment challenges – Hillstone's comprehensive solution suites, augmented with AI/ML and threat feeds, can deploy and scale access controls and visibility into today's dynamic datacenters, applications, clouds, and mobility architectures. The accuracy of our solutions and ability to correlate across multiple data sources helps reduce alert fatigue and threat paralysis, enabling higher productivity and increased job satisfaction for overworked security personnel. Our integrated solution reduces the overhead of managing multiple management systems from disparate vendors, improving productivity and reducing burden on security teams while improving total-cost-of-ownership.
By creating our solutions with the methodology of "see, understand, act", we place a concerted effort on showing security teams how we are transitioning their security toward cyber-resiliency. We want them to be able to feel the impact and feel like they have a grasp of what's happening. Examples of this can be seen by our duo inclusion in both Gartner Peer Insights, and our classification as a Visionary in Gartner's Magic Quadrant for Network Firewalls. The visionary qualification shows we have security that works from a legitimacy and analytical perspective. Our Peer Insights qualification shows we have security products that function simply and easily for security teams around the world.
About the Author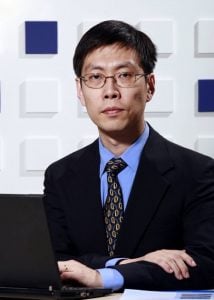 Timothy Liu is Co-Founder and Chief Technology Officer of Hillstone Networks. In his role, Mr. Liu is responsible for the company's product strategy and technology direction, as well as global marketing and sales. Mr. Liu is a veteran of the technology and security industry with over 25 years of experience. Prior to founding Hillstone, he managed the development of VPN subsystems for ScreenOS at NetScreen Technologies, and Juniper Networks following its NetScreen acquisition. Mr. Liu is also a co-architect of the patented Juniper Universal Access Control and holds an additional patent on Risk Scoring and Risk-Based Access Control for NGFW. In his career, Mr. Liu has served in key R&D positions at Intel, Silvan Networks, Enfashion and Convex Computer. He Liu holds a Bachelor of Science from the University of Science and Technology of China and a Ph.D. from the University of Texas at Austin.
Tim can be reached online at @thetimliu and at our company website https://www.hillstonenet.com/
July 12, 2022