Black Hat, the producer of the cybersecurity industry's most established and in-depth security events, today announced the successful completion of the in-person component of Black Hat USA 2023. The event welcomed more than 22,750 unique attendees, with 19,750 joining in-person at the Mandalay Bay Convention Center in Las Vegas, while more than 3,000 registered for On-Demand Access to the event.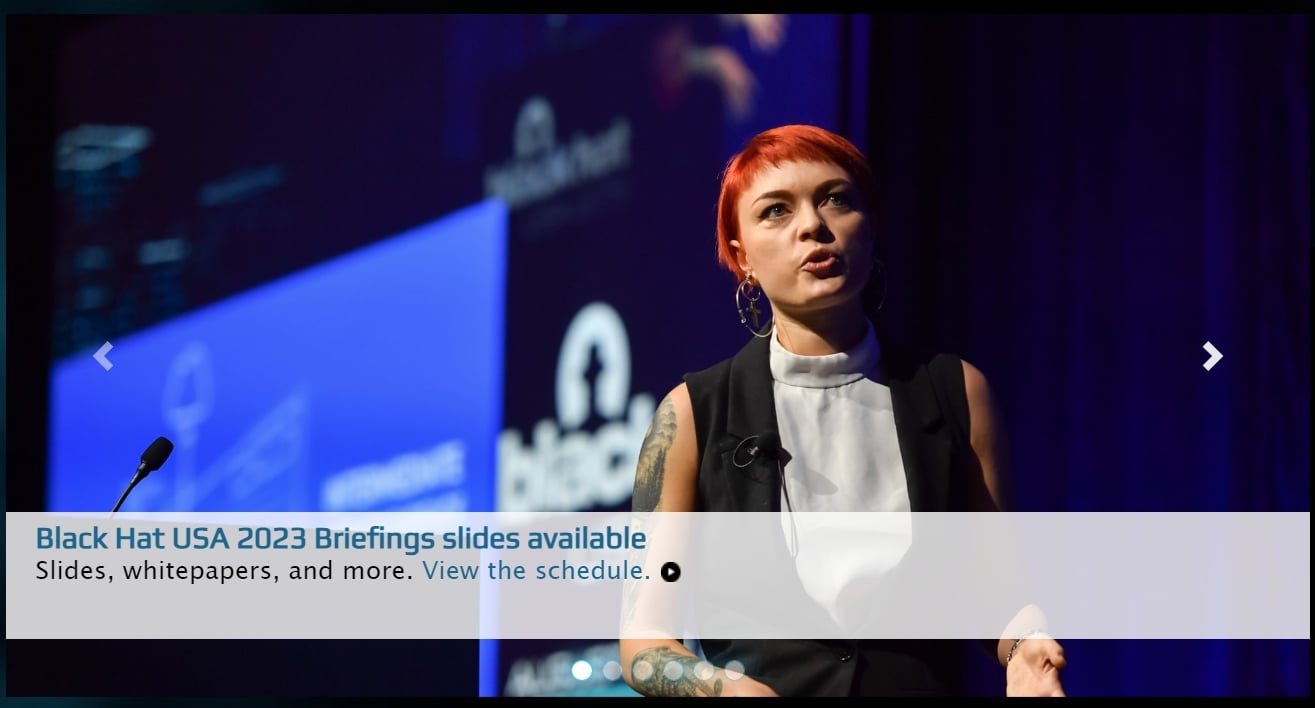 Security professionals from 127 countries registered to attend the event and experience firsthand the latest in research, development, and trends in Information Security (InfoSec), through 92 deeply technical hands-on Trainings and 98 Briefings presenting the latest research and vulnerability disclosures.
"We look forward to Black Hat USA every year and the opportunity to connect in person with our community, Partners, and Sponsors," said Steve Wylie, Vice President, Cybersecurity Market Group at Informa Tech. "We appreciate everyone who makes the journey to Las Vegas each August to attend Black Hat USA, and it is our hope that all attendees leave the event feeling energized from making new connections and from learning actionable information and best practices from the greatest minds in the security industry."
Show highlights for 2023 included:
Keynotes: The three Keynotes this year included Maria Markstedter, Founder of Azeria Labs; Jen Easterly, Director of the Cybersecurity and Infrastructure Security Agency (CISA), and Victor Zhora, Deputy Chairman of Ukraine's State Service of Special Communication and Information Protection; and Kemba Walden, Acting National Cyber Director in the Office of the National Cyber Director, and Jason Healey, Senior Research Scholar at Columbia University's School for International and Public Affairs. All Keynotes featured in-depth discussions into the current state of the cybersecurity landscape.
Omdia Analyst Summit: The third annual Omdia Analyst Summit featured the industry's leading cybersecurity analysts, focused on the theme, "Maximum Attention, Minimum Budget." The Omdia team surfaced valuable insights from its latest Cybersecurity Decision Maker survey, alongside the latest cybersecurity trends, market updates, observations, projections, and insights through a series of presentations, panels, and fireside chats.
Business Hall: This year's Business Hall welcomed more than 440 of the industry's leading information security solution providers, showcasing their latest products and technologies to attendees on-site, both on and off the Business Hall floor. The Business Hall also featured focused areas for attendee, vendor, and community engagement through Arsenal, Sponsored Sessions, the Community Lounge, Community Program, Meet & Greet sessions, and the Meetup Lounge.
Startup Spotlight Competition: The Black Hat Startup Spotlight Competition is a video pitch contest for cybersecurity startup companies interested in presenting their products and solutions in front of a live audience at Black Hat USA. During Black Hat USA 2023, the top four finalists each had the opportunity to pitch the benefits of their respective products and/or solutions to the panel of judges, and then answer follow-up questions from the judges in real time. Additionally, all finalists were invited to exhibit at Black Hat USA 2023 and received a 10-minute scheduled speaking slot and 30-minute call with an Omdia Cybersecurity Analyst. Once all finalists presented and the judges deliberated, the 2022 winner, Phylum, officially announced Mobb as the winner for 2023.
Scholarships: As a way to introduce the next generation of security professionals to the Black Hat community, Black Hat awarded a total of 306 complimentary Black Hat USA 2023 Briefings passes. Black Hat holds its own annual Student and Veteran Scholarship programs, partnering with a variety of associations on additional scholarship opportunities.
Network Operations Center (NOC): As a key component of Black Hat USA, the Black Hat Network Operations Center (NOC) provided a high security, high availability network in an intensely demanding environment. Each year, the hand-selected NOC team meets before Black Hat USA to incorporate the latest infrastructure and security solutions into a workable network design. Black Hat attendees may then visit the NOC for a glimpse into this state-of-the-art network.
Top Partners and Sponsors of Black Hat USA 2023 include:
Titanium Sponsors: CrowdStrike, Darktrace, KnowBe4, Qualys, and SentinelOne; Diamond Sponsors: Armis, BlackBerry, Cisco, IBM, Palo Alto Networks, Sophos, Tenable, Trellix, Trend Micro, and VMware Carbon Black; Global Partners: Adaptive Shield, Akamai, Appdome, ARCON, Armis, Binalyze, Bugcrowd, Contrast Security, Corellium, CYBER RANGES, DataDome, INE, KnowBe4, Kondukto, ManageEngine, Snyk, Sonar, Swimlane, Synopsys, Veracode, and wolfSSL; Sustaining Partners: Akamai, Armis, Axonius, Cisco, Claroty, CrowdStrike, IBM, Kandji, KnowBe4, Lacework, ManageEngine, Microsoft, Mimecast, Pentera, ServiceNow, Snyk, Sysdig, VMware Carbon Black, Wiz, and XM Cyber.
For more information on Black Hat events, please visit https://www.blackhat.com.
About Black Hat
For over 25 years, Black Hat has provided attendees with the very latest in information security research, development, and trends. These high-profile global events and trainings are driven by the needs of the security community, striving to bring together the best minds in the industry. Black Hat inspires professionals at all career levels, encouraging growth and collaboration among academia, world-class researchers, and leaders in the public and private sectors. Black Hat Briefings and Trainings are held annually in the United States, Canada, Europe, Middle East and Africa, and Asia. More information is available at: blackhat.com. Black Hat is brought to you by Informa Tech.
About Informa Tech
Informa Tech is a market leading provider of integrated research, media, training, and events to the global Technology community. We're an international business of more than 600 colleagues, operating in more than 20 markets. Our aim is to inspire the Technology community to design, build, and run a better digital world through research, media, training, and event brands that inform, educate, and connect. Over 7,000 professionals subscribe to our research, with 225,000 delegates attending our events and over 18,000 students participating in our training programmes each year, and nearly 4 million people visiting our digital communities each month. For more information, please visit www.informatech.com.
About the Publisher
Gary Miliefsky, Publisher & AuthorGary Miliefsky is an internationally recognized cybersecurity expert, bestselling author and keynote speaker. He is a Founding Member of the US Department of Homeland Security, served on the National Information Security Group and served on the OVAL advisory board of MITRE responsible for the CVE Program. He founded and is the Publisher of Cyber Defense Magazine since 2012. Visit Gary online at: https://www.cyberdefensemagazine.com/
August 22, 2023