By Mohit Shrivastava, ICT Chief Analyst at Future Market Insights
In today's geostrategic context, geopolitics and technology are inextricably linked, but many IT professionals who prioritize digital transformation pay comparably little heed to the geopolitical and environmental threats.
If one wants their plans for technological adaptation and digital transformation to be successful as an IT leader, one must have a thorough understanding of the geopolitical and environmental risks that may affect their firm. The success of the organization depends on it, in reality. It has been noted that the geopolitics of technology and business are important components for the purpose-led growth of any company.
The dangers might range from industrial policy concerns to cybersecurity threats to shifting technical regulation. One of the most obvious instances of the relationship between technology and geopolitics is cybersecurity. These risks can threaten governmental organizations, which will affect the data in various IT companies. Such risks are propelling the demand for IT contingency plans like cybersecurity insurance. According to Future Market Insights, an ESOMAR-certified market intelligence firm, the global cybersecurity insurance market is expected to garner a 19.1% CAGR from 2023 to 2033.
Governments are also progressively promoting self-sufficiency in critical technology through industrial strategy, which is fueling geopolitical competitiveness. Long term, this might pose serious dangers to the IT industry. Therefore, these hazards might prevent IT organizations from expanding and prevent them from creating effective backup strategies.
Thus, in this blog, we will discuss the importance of a cyber risk balance risk for data protection, how can IT leaders mitigate the risks via gaining organizational resilience, and how the Governance, Risk, and Compliance (GRC) programs doubling the security of data.
Opting for a cyber risk balance sheet can offer protection.
Cybersecurity is one of the most visible manifestations of the relationship between technology and geopolitics. Cyberattacks motivated by geopolitics may have a big impact on cybersecurity, risk management, and digital transformation strategies. While no firm is immune to such attacks, those that have robust data security systems, well-trained workers, and effective cyber defenses are expected to be less vulnerable. As a result, many IT leaders are looking to a cyber risk balance sheet preparedness strategy as a reliable IT contingency plan.
One "power move" that executives may undertake to enhance their decision-making about cyber risk is to create a cyber risk balance sheet. This straightforward change in corporate behavior and risk thinking integrates cyber hygiene with the current corporate risk management mechanism in a way that fosters knowledge, promotes wise conduct, and incentivizes sensible investments. This is achieved by making the various invisible ledgers of cyber hazards apparent via the power move of the cyber risk balance sheet.
A board member can advise their cyber leaders to assign their teams the duty of developing and evaluating a cyber risk balance sheet that lists the cyber incidents that might have a meaningful financial impact on the firm. The following are the essential processes in creating a cyber risk balance sheet:
Create a methodology for quantifying cyber risk that is suited to the organization's risk profile. Using Factor Analysis of Information Risk (FAIR), along with other industry standards like NIST SP 800-53 as well as ISO 27005, this may be built.
Identify the most important cyber threats that affect the company and assess the likelihood of the threat, the assets at risk, and the efficacy of the cyber controls currently in place to minimize them.
Create a balance sheet that combines planned or present investments in cyberspace with the likelihood of in-scope cyber threats and liabilities.
Once this balance sheet is completed, periodically examine and discuss it using the cost in dollars of cyber threats as a foundation for comprehending and converting the underlying impact on the bottom line. This ledger may be used to assess the effectiveness of current security efforts and to require Chief Information Security Officers (CISO) to justify additional cyber spending in terms of a profitable return on investment. For example, a $2.5 million investment in system security in the next 3 years reduces cyber risk by almost $7 million on the cyber risk balance sheet.
Leaders can focus on building organizational resilience.
The frequency as well as the complexity of challenges across risk categories, from geopolitics to economic instability, from climatic changes to public health, and from talent to supply chain, are what is driving today's challenges for various IT companies globally. Business leaders must take action right now to meet these difficulties head-on and seize the possibilities they present by involving their workforce and establishing a sense of mission. In light of this, IT organizations must strengthen their organizational resilience.
Organizational resilience is the capacity to recover from negative experiences, learn from them, and come out stronger against recurring problems. It is better to approach resilience building from three angles:
Operational
It takes emergency service planning, workforce flexibility, crisis management, and technology to ensure that companies can operate under unfavorable conditions to develop innovative methods to serve consumers and safeguard staff amid unanticipated catastrophes.
Financial
Greater flexibility in capital allocation enhances diversity and streams of return in the face of uncertainty and supports agility in the face of the unexpected. Enterprises may become more resilient to unforeseen occurrences and generate more sustainable profits by experimenting with and swiftly learning from risk reduction and investment possibilities.
Human
Businesses that have leaders that are concerned about the requirements of each employee's own emotional, physical, financial, as well as social health and who foster a shared, corporate sense of purpose prosper under challenging circumstances.
Governance, Risk, and Compliance (GRC) programs are being implemented by various IT companies for better security.
Governance, Risk, and Compliance (GRC) is a methodical strategy to manage geopolitical and environmental risks, comply with all industry and governmental laws, and integrate IT with business objectives. It consists of methods and tools for integrating technology innovation and adoption with a company's governance and risk management. The GRC strategy is used by businesses to reliably accomplish corporate objectives, eliminate ambiguity, and adhere to regulatory obligations.
By implementing GRC programmes, businesses may enhance their decision-making within a risk-aware culture. An effective GRC program may help key stakeholders set policies from a shared perspective and conform to regulatory requirements. GRC harmonizes the firm's overall policies, decisions, and activities.
Utilizing these GRC practises, corporations are able to make a range of data-driven choices. They may keep an eye on their resources, set guidelines or frameworks, and employ GRC tools and software to swiftly reach conclusions based on data. GRC streamlines corporate procedures around a common culture that supports moral standards and promotes an atmosphere that is conducive to growth. It oversees the creation of an effective corporate culture and encourages moral decision-making inside the business. It also improves a business' cybersecurity tactics.
Businesses may utilize data security measures to preserve customer data together with private information by utilizing an integrated GRC approach. Due to the increasing cyber risk that puts user privacy and data at danger, the company must create a GRC plan. It enables companies to follow data privacy regulations like the General Data Protection Regulation (GDPR). By establishing a GRC IT strategy, an IT department may boost customer confidence and protect its company from risking it to any geopolitical and environmental hazards.
Innovations like the Internet of Things (IoT), operational technology (OT), and quantum may expose the organization to risks related to data privacy, third-party security, identity fraud, and IT regulatory compliance in complicated technical contexts. To centralize and supervise risk management while satisfying compliance and reporting requirements, an IT executive must combine these contact points.
For instance, IBM® provides all-inclusive, product-neutral GRC and data privacy, as well as identity and access management (IAM) services from planning through execution, offering direction, and helping to choose, implement, and automate various risk management programs. Thus, to mitigate the numerous geopolitical and environmental risks, IT leaders might use programs as their IT contingency plans.
Conclusion
For various businesses, geopolitical and environmental risk refers to the possibility of global political unrest to endanger the operational and financial stability of corporations. Different IT leaders must comprehend the specifics of the link between corporate globalization and geopolitics, chart the "sites of risk" for corporate entities in their operations, and adopt forecasting tools to improve their enterprise resilience concerning threats from terrorism and conflict to develop a conceptual model to mitigate this risk. To advance this process, CEO leadership is also essential.
Analytics might be a different escape route. For enterprises to successfully manage risks and boost employee and business resilience, analytics and data are essential enablers. At the moment, organizations have access to a wide range of data on topics including insurance payments and losses, benefits, and skills, employee compensation, and cyber, climate, and capital threats.
Analytics as well as artificial intelligence may help leaders develop practical insights and viewpoints. They may better identify their needs, prioritize them, and allocate resources effectively by employing predictive modeling.
Numerous business leaders have been challenged by recent events, but their responses have demonstrated that managing uncertainty is achievable. Organizations may become stronger and more future-ready by concentrating on the techniques mentioned above.
About the Author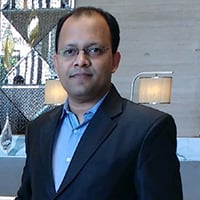 Mohit Shrivastava, Chief Analyst ICT at Future Market Insights. Mohit Shrivastava has more than 10 years of experience in market research and intelligence in developing and delivering more than 100+ Syndicate and consulting engagements across ICT, Electronics, and Semiconductor industries. His core expertise is in consulting engagements and custom projects, especially in the domains of Cybersecurity, Big Data & Analytics, Artificial Intelligence, and Cloud. He is an avid business data analyst with a keen eye on business modeling and helping in intelligence-driven decision-making for clients.
Mohit holds an MBA in Marketing and Finance. He is also a Graduate in Engineering in Electronics & Communication.
Future Market Insights (FMI), is an ESOMAR-certified market research and consulting market research company. FMI is a leading provider of market intelligence and consulting services, serving clients in over 150 countries; its market research reports and industry analysis help businesses navigate challenges and make critical decisions with confidence and clarity amidst breakneck competition. Now avail flexible Research Subscriptions, and access Research multi-format through downloadable databooks, infographics, charts, and interactive playbook for data visualization and full reports through MarketNgage, the unified market intelligence engine powered by Future Market Insights. Sign Up for a 7-day free trial!
Mohit may be reached at https://www.linkedin.com/in/shrivastavamohit/
and at our company website https://www.futuremarketinsights.com/
May 23, 2023