"What do you want to be when you grow up?" was the question I heard over and over again as a middle and high school student, but I could never quite find an answer. Like many others my age, I had no idea what I wanted to do in life. Growing up in the Midwest, I only thought of going into careers that I could see, such as farming and agriculture, education, and manufacturing. However, family and friends showed me that cybersecurity existed and wasn't solely about fixing computers.
When I first began exploring my options, I heard about GenCyber camps from my older brother attending Dakota State University[1]. Taking his suggestion, I attended my first GenCyber Girls in CybHER[2] camp as a middle school student, which opened my eyes to some of the possibilities this field entailed. I used to think that the cybersecurity field was only for those who loved programming – which I did not. It was at this camp that I met CybHER founders Drs. Ashley Podhradksy and Dr. Pam Rowland. They quickly became an inspiration to me, and the more I learned about these trailblazers, who are breaking barriers for women in the field, the more inspired I became.
With this spark of excitement within me, I stayed in contact with Ashley and Pam and began to take their mentorship and guidance in exploring cybersecurity. While in high school, I had the opportunity to compete in The National Youth Education Program – CyberPatriot[3]. CyberPatriot is a cyber defense competition where teams take on ​the position of newly hired IT professionals tasked with managing the network of a small company. This competition enabled me to gain technical skills and help find my passion for cybersecurity.
As a college student, my curiosity and drive to continue exploring have only grown. At Dakota State University, I quickly threw myself into various clubs and activities to grow my network and skills. While working with teammates, mentors, and professionals, I have continually grown my technical and soft skills through defensive competitions and cyber-based Capture the Flag (CTF) competitions. In fact, my team earned 2nd place out of 170+ teams nationally in the Collegiate Cyber Defense Competition (CCDC) competition this past April.
While in school, I learned a lot of foundational cybersecurity skills from my classes at Dakota State University. Furthermore, I sought additional training outside of the classroom by reaching out to faculty, industry professionals, and mentors. Through them, I have been able to job shadow various cybersecurity roles and learn about additional opportunities. This last year, I applied for and was awarded cybersecurity training courses with industry certification exams. This helped me grow my cybersecurity skills and helped make me more rounded as a professional.
Using my network of industry professionals and finding opportunities, I have been able to gain valuable cybersecurity experience as a high school student and now as a college student. In addition, I can apply some of the foundational skills I learned in the classroom and technical skills through competitions in the real world. Besides this, working in the private and public sectors has taught me a tremendous amount about the importance of cybersecurity and its impact on individuals, companies, and our country.
With how much I have learned and the amount that others have poured into me through mentoring and guidance, I wanted to give back and help the next generation of cyber defenders. Therefore, I joined CybHER, whose mission is to empower, motivate, educate, and change the perception of girls and women in cybersecurity. Then, in November 2021, my sister and I founded the Cyber Community Club (Cx3), an organization designed to reach underserved and underprivileged individuals and communities. Cx3 is a community of like-minded individuals striving to educate middle and high school youth in the STEM fields of technology and cybersecurity. We host events designed to engage and inspire youth in the cyber field, such as capture-the-flag (CTF) competitions, hackathons, training, hands-on workshops with cyber professionals, and more. In a mere seven months, we have impacted 1,110 students in 23 countries, with many more exciting things to come.
These outreach programs have taught me that there are endless opportunities in cybersecurity to make an impact, grow your career, and achieve your goals. Unfortunately, driving these opportunities are numerous cyber-attacks and data breaches that have affected millions of individuals. Companies also see the effects, and due to the lack of technological security, larger companies have been shown to lose upwards of a billion dollars[4]. That would have been shocking ten years ago, but it doesn't surprise most people today. With the world of technology expanding every day, cybersecurity grows and continues to present a threat to anyone who uses computers, phones, or other technology.
I have also seen my contributions and efforts make a real-world impact. Often, it can be easy to get lost or focused on the details of work. However, when stepping back and looking at the bigger picture, it is apparent that everyone works together to bring a piece to the puzzle. Technology is constantly evolving, which brings the opportunity for new ideas. Whether using my creativity or innovation, the cybersecurity field is always looking for those who want to push the limits.
This expanding envelope also makes the cybersecurity field rather unique in many ways. A few things I have discovered and grown to love are the career advancement possibilities, the flexibility within the industry, and the personal/professional development opportunities. These are things that I have found are rare within most industries, and it excites me to be a part of an industry that can be customized and tailored to individuals. For example, one can do hands-on technical work, be a cybersecurity manager or leader, a consultant, or more. The options are endless, and I love that there are many diverse roles requiring different skills and abilities. I know I wouldn't get bored or find myself in a permanent rut with how much there is to learn.
As a young professional in cyber, I understand that it can be daunting to know what specific domain cyber one would want to pursue. Cybersecurity has the options for flexibility with various work roles. There are roles such as a digital forensics analyst, cybersecurity engineer, network administrator, security penetration tester, and so many more. Cybersecurity isn't one-size-fits-all – there are many roles within cybersecurity, and new ones are constantly being created. It is appealing to me because I can try a new role, and if I don't enjoy it, I can switch and try something different.
Outside of career, personal and family lives are important as well. The cybersecurity industry values and promotes the ability to take care of and grow yourself. Numerous jobs have the flexibility for working remotely, traveling, speaking, and more. This is an amazing benefit as I can travel frequently and live in different areas while working.
While the cybersecurity field may appeal to many individuals, the need for cybersecurity professionals continues to grow. Now, more than ever, it is becoming clear that there are not enough people to fix the growing security problems that millions of individuals and companies are facing. According to the 2021 (ISC)² Cybersecurity Workforce Study, there is an estimated shortage of 2.72 million cybersecurity professionals worldwide[5].
We must help fill this shortage as the importance of cybersecurity is only growing, the effects of which we can see nearly daily on the news. From meeting and speaking with multiple people, it is also apparent that so many people don't know that the cybersecurity field exists or all of the opportunities within. To this end, I appreciate organizations such as Women in Cybersecurity (WiCyS)[6] and CyberStart[7] for their initiative to help bring more professionals into the field.
With all of this in mind, though, starting in the cybersecurity field may seem intimidating, but don't fret! I have found that there are a few key things that help make individuals thrive in the field:
Be Curious
One of the things I love most about the cybersecurity field is the ability to use my critical thinking and problem-solving skills to find solutions. Professionals need to be able to figure out and determine how systems and tools work. Knowing how they work is key to figuring out how best to protect that critical piece. Successful cyber professionals don't stop asking questions and being curious.
Be Determined and Persevere
The need for determination and perseverance are critical for cybersecurity. Along my journey, there have been times when I was discouraged and found myself stuck in a rut. I felt like I didn't know much and began to feel the imposter syndrome sink in. It was helpful to look around me and find comfort and support in the community and industry. I quickly found that I was not alone and that many accomplished cybersecurity professionals feel the same way.
Never Stop Learning and Pushing Yourself
Because new threats are continuing to be thrown at us, cyber professionals must keep up to date and grow with the field. While some older vulnerabilities are still being used today, new ones also prove to cause damage. Therefore, professionals must be ready to respond to anything so we can protect and defend networks. In this endeavor, it is much better to be proactive than reactive when it comes to cybersecurity, so continually learning and knowing the latest threats and technologies is key to being successful within the industry. For you, this could mean working on projects with Raspberry Pis or a homelab, writing blogs, playing with TryHackMe or HackTheBox, or reading up on new topics.
Technical Skills !Required
While technical skills are helpful, they aren't always required. Those who are the most successful in the industry have a curiosity about technology and cybersecurity, have been able to dig their feet in, persevere, and continually keep learning and growing.
At the end of the day. cybersecurity is now more important than ever before, and we need everyone to help keep our families, companies, and country safe. While it may feel daunting to take the plunge into cybersecurity, the tips I've listed hopefully make it seem not so bad. I've also found it amazing to be a part of something so important and necessary, but I know that I cannot be alone in this. The cybersecurity field is in critical need of you to help strengthen security and ensure the safety of our future.
About The Author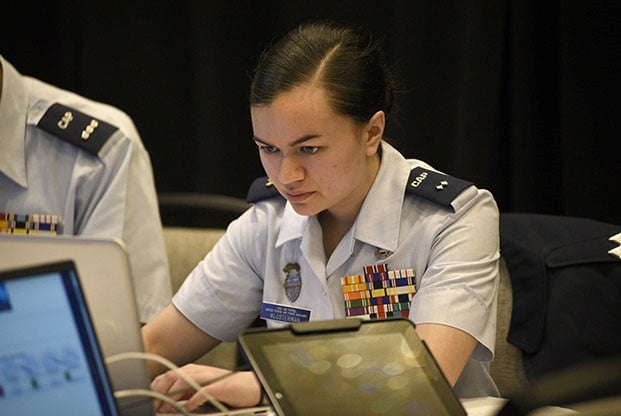 Annabelle Klosterman is a Cybersecurity Reporter for Cyber Defense Magazine (CDM). She is a Cybersecurity Engineer, Speaker, and Co-Founder/Program Director of the Cyber Community Club.
She is CDM's first Women in Cybersecurity scholarship awardee and a Cyber Operations student at Dakota State University.
She has private and public sector experience with cybersecurity research, defensive and offensive security, and policy. Over the years, Annabelle has competed in numerous competitions and placed second nationally at the Collegiate Cyber Defense Competition in 2022 and was a national finalist in CyberPatriot in 2019 and 2020. Additionally, she earned 1st place in the 2022 Idaho National Laboratory CyberCore CTF, and Women in Cybersecurity (WiCyS) CTF in 2021 and 2022. She holds SANS certifications in Cybersecurity Technologies (GFACT) and Cloud Security (GCLD).
---
[1] "Dakota State University." https://dsu.edu/. Accessed 24 May. 2022.
[2] "CybHER® : Women & Girls in Cyber Security & Information …." https://www.cybher.org/. Accessed 24 May. 2022.
[3] "AFA CyberPatriot Website." https://www.uscyberpatriot.org/. Accessed 24 May. 2022.
[4] "The Equifax data breach, in one chart – MarketWatch." 10 Sep. 2018, https://www.marketwatch.com/story/the-equifax-data-breach-in-one-chart-2018-09-07. Accessed 24 May. 2022.
[5] "(ISC)² 2021 Cybersecurity Workforce Study." https://www.isc2.org/Research/Workforce-Study. Accessed 24 May. 2022.
[6] "Women in Cybersecurity: Home – WiCyS." https://www.wicys.org/. Accessed 24 May. 2022.
[7] "CyberStart: Play fun hacking cyber security games, for free." https://cyberstart.com/. Accessed 24 May. 2022.
May 24, 2022