By Michael Levit, Co-Founder and CEO of Tempest
As all of our lives have moved online, the collection and sharing of data by big tech and private companies has become the norm. This is a concern not only from a security point of view but also in that it reduces the freedoms of individual internet users. Data privacy and security are intertwined, and it is vital that technology is developed to make it easier for all users to adopt privacy-first behaviors.
Developing technology that allows people to understand how their data is being used and enabling them to take steps to protect their own data will take us forward into a better, safer world.
The state of play in search technology
Search engines have become a tool used by almost everyone on the planet. Google alone, it is estimated, processes 5.6 billion searches per day. The embedding of this practice into our daily online lives has also resulted in practices which put privacy and online safety at risk. Major search engines re-target users with search results and adverts based on highly personal information such as health concerns, relationships status, sexuality, and personal finances. This is a concern for users of the internet, with data in 2022 from the research company Ipsos suggesting that 79% of internet users worry about their online privacy.
Search engines are now a core aspect of our online lives, but users are forced to make a data privacy trade off. The human need to access information now means that there are exabytes of personal data being shared by individuals every day and a mass collection of this personal data presents security risks. It is no secret that cybercriminals are becoming increasingly sophisticated and although search engines invest heavily in cybersecurity there are currently no perfect solutions. One way in which the industry can help to ensure the security of people's personal data is by educating users themselves on taking control of their own data and developing search technology that is privacy-first. Privacy-first solutions for privacy-conscious consumers is the future we need to build towards.
A private search revolution
It is a significant challenge to create a safer future where data collection is de-normalized and the risks it poses are reduced. Ultimately, it's about ensuring security by going right to source. Developing technology that does not collect PII (Personally Identifiable Information), is tracker-free and does not collect users' search history. This ensures that personal data isn't exposed to security risks. Innovation is vital and cybersecurity must sit at the heart the development of search and browser technology for the next generation.
However, succeeding in embedding data privacy into search depends on two things – experience and education. Internet users are not going to change engrained daily habits lightly, so developing privacy-first tools with a seamless user experience is vital. This includes everything from look and feel to providing privacy information (cookies, trackers etc.) in a way that is easy for people to interpret. In a new world of internet privacy, user experience and data security go hand in hand.
The second key part of the puzzle is educating users on how their data is being collected and the privacy and security issues this creates for them. We can invest in all the technological innovation in the world but without users who are empowered to use them, the problems will persist.
Data privacy and online security are often viewed as macro issues, but data is at it is very core, personal. By putting users back in control of their personal data, next generation internet companies can play a key role in a safer future.
About the Author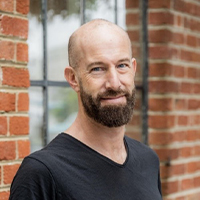 Michael Levit is the Co-Founder and CEO of Tempest. He leads on the strategic direction of the business across product, financial and operations. In 2017, he co-founded the company to embed private search into our everyday lives after observing a gap in the market for a mainstream private-focused search engine. Michael is an experienced and passionate entrepreneur – he is a co-founder of Spigot, one of the world's leading multi-platform application developers. Michael also held advisory and executive positions at prominent businesses in the tech sector, including Alibaba, Softonic, DeleteMe, Docker, Say Media and Revel Systems. He also has experience consulting the world's largest corporations during his time at Accenture from 1995 to 1999. Michael brings this wealth of experience to the Tempest team.
Michael holds a B.A. in Business Economics, a B.S. in Mechanical and Environmental Engineering and a Master of Business Economics from the University of California, Santa Barbara. When Michael isn't busy running Tempest, he enjoys spending time with his two wonderful children and chasing the wind with his kiteboard. Michael Levit can be reached online at https://www.linkedin.com/in/mlevit/ and at our company website www.tempest.com/.
August 13, 2023