Cybersecurity Workforce Certificate Program
By Stephen Patrick, Marketing Coordinator at the University of Louisville
According to the Identity Theft Resource Center 2021 Data Breach Report, there were 1,862 data breaches last year, with more than 80 percent revealing sensitive personal information. The demand for qualified cybersecurity professionals is high, but there are not enough skilled people in cyber for the openings. There are 1,053,468 employees working in cybersecurity in the U.S. as of February 2022. (Cyber Seek). As of February 2022, there are 600,000 job openings in the cybersecurity industry, meaning only 68 percent of jobs are filled. (Cyber Seek).
The Cybersecurity Workforce Certificate Program is taking these issues head-on through an innovative online curriculum. Awarded a total of $8.3 million in grant funding from the National Centers of Academic Excellence in Cybersecurity, UofL and its Digital Transformation Center (DTC) are leading a coalition of universities to deploy the next generation of cybersecurity tools and professionals.
The Cybersecurity Workforce Certificate Program received an initial $6.3 million grant to back the research and curriculum development in 2020. For the curriculum, UofL partnered with the University of Arkansas Little Rock, the University of North Florida, the Kentucky Community and Technical College System – Bluegrass Community and Technical College and Owensboro Community and Technical College, and a coalition liaison from the City University of Seattle.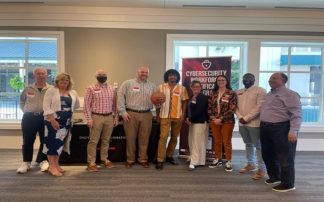 Photo Cred: Photo Cred: UofL Cybersecurity
This coalition has developed an extensive and robust collection of modules covering the foundational concepts needed for any cybersecurity role and introducing innovative topics such as post-quantum cryptography. Industry partners helped to build hands-on learning activities integrated with the curriculum, including a Capstone project inspired by actual scenarios faced by the industry partners. The resulting program incorporates the subject matter expertise from leading academics. The result is an extensive curriculum filled with valuable learning materials.
During the first two years, the coalition piloted the online learning modules with a test group of about two hundred students across numerous cohorts. Student feedback is used to refine the curriculum, labs, and other learning activities.
In 2022, UofL and the collation received an additional $2 million to add six more colleges and universities to the coalition: Kentucky State University and Simmons College, both historically Black colleges and universities (HBCUs); The City College of New York, Kennesaw State University, Hood College, and Northwest Missouri State University. Each school in the coalition is a National Security Agency -designated National Center of Academic Excellence in Cyber Defense and contributes interests, experience, and skills aligned with cybersecurity systems.
Photo Cred: Photo Cred: UofL Cybersecurity
The certificate leverages technology industry micro-credentials from Microsoft, IBM, and Google, gamification, and direct learning with use cases from industry partners to teach artificial intelligence, blockchain, and other innovative aspects of cybersecurity. University of Louisville's Digital Transformation Center leads the curriculum development for the online program. The program is piloting the six-month instructor-led certificate program. When completed, it will be available open source.
"As technology continues to become more of an integral piece of our everyday lives, a strong cybersecurity industry and workforce are the most important protections we have to make our financial and healthcare systems secure," said Sharon Kerrick. She is a principal investigator on the NCAE-C grant, associate professor, and assistant vice president of the UofL Digital Transformation Center. "We can fill that need with this focused, accelerated curriculum that prepares diverse students of all backgrounds for careers in cybersecurity."
Photo Cred: UofL Cybersecurity
"It's great that we're getting to know our colleagues at neighboring universities — we're working together, and sharing ideas," said Richard Maiti, an assistant professor of computer science at Kentucky State University, who serves as the lead for the project at his institution. "This is a terrific opportunity, and it's helping to bring cybersecurity awareness and training to everyone — our students, professionals, and folks in the community."
Students are already graduating from the program. Kelly Kramer graduated from the University of Louisville in 2012 with a bachelor's degree in psychology and landed a job in law enforcement as a data analyst and legal assistant. But he grew interested in cybersecurity, where his interests in psychology, technology, and protecting people mixed.
"This program has taught me quite a bit about securing not only those essential entities like hospitals, businesses, government agencies, but also ourselves," said Kramer, who now plans to return for his master's degree in computer science. "It is a complex web of networks, nodes, servers, databases, and much more. We need people to understand each of these if we are to effectively secure them. I do not doubt that this program will open opportunities for myself and others."
JT Corcoran graduated from UofL in 2014 with his bachelor's and master's degrees in computer engineering and computer science and returned for the program. He joined the U.S. Air Force and spent seven years on active duty, working in data analytics, cyber incident response, and network architecture planning. As Corcoran's service ended, he started looking at new career opportunities.
Photo Cred: UofL Cybersecurity
"Since I had a prior background in cybersecurity, many of the topics were familiar but I haven't done some of these things in a while," said Corcoran, who now works as a healthcare security analyst. "The certificate provided a nice refresher on doing things like writing security system rules, configuring network infrastructure, integrating cloud services, and conducting forensics in a lab environment. The inclusion of newer technology topics like blockchain and post-quantum cryptography was fantastic to help brainstorm new ways of innovating in the security space."
The cybersecurity industry is one of the fastest-growing fields in the world. As we rely on technology more every day, educational innovators like this coalition of NCAE-C schools are here to prepare the next generation of the cybersecurity workforce! If you are interested in breaking into the field of cybersecurity and want the opportunity to gain knowledge across multiple domains, this might be the program for you."
More information on the Cybersecurity Workforce Certificate Program is available at louisville.edu/education/nsacybersecurity.
About the Author
Stephen Patrick, Marketing Coordinator at the University of Louisville.
Stephen completed his bachelor's degree in Communications & Marketing. He was an intern assistant in the University of Louisville Sports Information Department. During college, he worked as a Personal Banker at Stock Yards Bank. After graduation, he moved to Nashville, TN. He severed as a Corporate Partnership Coordinator at Tennessee State University. He has over six years of sports journalism experience, writing for several sports media outlets.
Stephen Patrick can be reached online at Stephen.Patrick@Louisville.edu and at our company website
September 26, 2022