By Shubham Patidar, Research Consultant at Fact.MR
In today's technology driven world, the workforce is spread out between those working remotely and those working in offices, with some planning on returning to their office full-time and others remaining on a hybrid or remote model for the foreseeable future. While several companies worldwide have remained invested in the on-premises calling system, the reality is that, today, the shortest way to communicate is often through a stable internet connection.
Companies are thus investing huge sums in the development of a unified communications system with a cloud calling feature. Adapting their communication systems to this new technology can potentially improve or even future-proof the line of communication in and outside of an organization.
Cloud calling, often referred to as cloud telephony, helps in making a company's overall phone system cost less. It provides voice communication services primarily through a third-party host. It is gradually replacing the need for traditional enterprise telephone systems, including private branch exchange across the globe.
Cloud telephony services further frees organizations from the burden of purchasing and storing stand-alone hardware such as handsets and private branch exchange boxes. It also sets the stage for equipping complementary unified communications as a service (UCaaS) features such as artificial intelligence (AI)-enabled customer support, keyword and voice analysis, interactive voice response (IVR), and call center capabilities.
Organizations nowadays are utilizing cloud telephony services to better connect their teams and make their employees more satisfied, engaged, and focused in their roles. The term 'cloud telephony' signifies a multi-tenant access model, with subscribers paying to utilize a provider's pool of shared and commoditized resources.
As per Fact.MR, a leading market research firm, the global cloud telephony services industry is projected to reach a valuation of US$ 51.5 Billion by the end of 2032 and exhibit growth at a CAGR of 9.5% from 2022 to 2032. Surging need to reduce phone bills and the overall teleconferencing cost in an organization is expected to bode well for the industry.
All cloud telephony platforms utilize voice over internet protocol (VoIP) technology. However, cloud telephony poses a security risk to an organization's confidential data owing to the possibility of VoIP hacking. It mainly occurs because of the requirement of an internet connection for using the cloud calling feature.
Which Are Some of the Common Techniques of VoIP Hacking?
VoIP systems can face unique security risks due to their different setup and high dependence on the internet, as compared to the conventional telephone system. Below are some of the common types of VoIP hacking that a user should be aware of:
Social Engineering: It leverages human interaction instead of VoIP system technicalities. Poor execution of social engineering campaigns is one of the major factors that promotes this type of hacking. Various organizations, especially in emerging economies often fail to provide their employees with education regarding the risk of fraudulent phone calls made by hackers by disguising their caller IDs. Hackers often use tricky means to generate confidential information about a specific target and can utilize it later for malicious acts.
Toll Fraud: As international calls are expensive to make, potential attackers place those calls and the bills are charged to the company's account. In toll fraud, attackers mainly target system users and admins with phishing scams to gain unauthorized access to an organization's VoIP system. They usually leave a voicemail to a department in an organization questioning them about information like bank details. If the employee passes the verification codes, attackers can easily get access.
Unauthorized Use: It involves using an organization's phone network to call other companies or individuals pretending to be someone else. Attackers mainly use robocalling and auto-dialing software with an organization's cloud telephony system. Those who answer to the phone ID would receive a pre-recorded message, thereby compelling them to do specific things.
Spoofing: The majority of people use their caller IDs, however, it might not be the ideal way to know from where a particular call is coming from. Sometimes, an attacker can call an organization by using a fake caller ID and take advantage of the trust that an employee places on a familiar phone number. Attackers can then use the fake ID with another hacking technique like social engineering.
Eavesdropping: Adoption of insecure networks, which is characterized by the lack of Transport Layer Security (TLS) and Real-time Transport Protocol (SRTP), could enable hackers to keep their eyes on an organization's network. It would help them to gather crucial information about the organization, its clients, and other aspects. By gaining the information, they can sell the organization's intellectual properties to rivals, access its customers' data for selling, and blackmail the organization with sensitive data.
Renowned and start-up companies operating in the global cloud telephony space are striving to develop cutting-edge technological tools and services to help protect organizations against the aforementioned hacking techniques. Besides, some of the leading organizations are placing their own security teams to perform cybersecurity services, including the protection of cloud calling features.
Checkmarx Launches Checkmarx API Security for Protecting APIs
In August 2022, Checkmarx, a pioneer in the field of software security based in Israel, launched a new API security solution named Checkmarx API Security. It correlates and prioritizes vulnerable data from various AppSec engines. Every cloud-hosted, modern web, or connected mobile application exposes and uses APIs. These are used to call application functionality and to gain access to data.
It further creates a large attack surface, thereby leading to a rising number of publicized API breaches and attacks. The new solution addresses numerous issues related to security in the software development lifecycle, including cloud calling. It helps in discovering zombie and shadow APIs, eliminates the requirement of additional API-specific tools, and finds out APIs in source code to fix and identify problems.
FCC Chairwoman Jessica Rosenworcel Proposes Restrictions on Ringless Voicemails
Jessica Rosenworcel, chairwoman of the Federal Communications Commission (FCC), proposed restrictions on ringless voicemails in February 2022. The new norm would require callers to gain a consumer's consent before providing a ringless voicemail, which is referred to as a message left in the mailbox without ringing their phones.
As per Rosenworcel, ringless voicemail can lead to frauds like robocalls, as well as be invasive. Thus, it needs to be put under stringent consumer protection norms. The proposal came in after phones in the U.S. received more than 50 billion robocalls back in 2021. The number was significantly higher than that of 2020, in which only 4 billion robocalls were received by consumers.
Worried About Those Random Robocalls? RoboKiller Unveils New Call Confidence API
In May 2021, RoboKiller, a provider of customizable call blocking services, headquartered in New York, unveiled Call Confidence API, its new enterprise robocall prevention technology. Launch of this solution would enable companies of all sizes to tap into the same call blocking technology that have protected more than one million Americans from financial losses worth US$ 150 million due to phone frauds.
Call Confidence API would further help companies to strengthen their networks and provide robust defense features to join the fight against dangerous and illegal phone scammers. The solution utilizes machine learning technology to accelerate the mitigation of robocalls for companies vulnerable to such calls. It provides a plug-and-play solution and is specially designed with ease-of-use, speed, as well as privacy in mind.
Is the Future of Cloud Telephony Bright?
As the cultural diversity of a specific region calls for multi-language support for businesses, cloud telephony would help to ease the task by allowing representatives to transfer customers' calls to various language specialists. It would also enable freedom of geographical equation, thereby making customers feel more connected to a brand.
Thus, no matter where a business is set up across the globe, companies can easily route calls coming from customers to language specialists. But, this potential of cloud telephony has not been used to full extent till date. More companies are likely to eliminate geographical constraints and focus on offering a better experience to their customers in the next decade by using cloud telephony services.
Apart from that, key cybersecurity software solution providers are anticipated to offer military grade data security which would surpass compliance requirements. These solutions would hold the key to meeting stringent norms as industries such as banking and financial services are consistently facing strict communications regulations. Also, by shifting towards a cloud telephony system in future, companies can take a leap forward in terms of meeting regulatory compliance and ensuring data security.
About the Author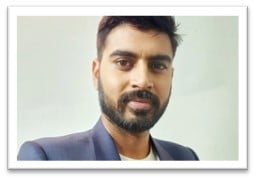 Shubham Patidar is an experienced research consultant at Fact.MR, He is a Client Partner at Fact.MR, with a proven experience in market research & consulting industry and has been closely working on technology vertical.
September 25, 2022