By Megan Lupton, Senior Content Executive, Champions Speakers
Sarah Armstrong-Smith is a globally revered voice in the cyberspace. She is regularly booked for corporate conference and as a Cyber Security Awareness Month speaker, where she uses the event to share the importance of data privacy. In this exciting interview, Sarah reflects on her career in cyber security and what she learned from working on the Millenium Bug.
Why did you embark on a career in cyber security?
"I've been working in the technology sector for over 20 years, and I chase this back to 1999 – all those many years ago! I was actually working for a water utility company on the Millennium Bug or Year 2000 programme, and many companies were on really large transformation programmes to recode a lot of their computers and servers.
"The theory was, at the stroke of midnight, a number of computers and servers would melt down, because of the way that the year '2000' was actually coded into a number of different systems. And really, for me, from a young age, I've always been driven to keep asking 'why' and ask abundant questions: 'what if the systems go down?', 'what if we can't get people to work?', 'what if what if' – all these types of things.
"I didn't really understand at the time, but what I was looking at was business continuity. For me, it just felt like common sense to keep asking these 'what if' questions. I always look at that as the point where I started my career."
What did you learn from your experience of working on the Millenium Bug?
"I think having a background in business continuity has really enabled me to think about the big picture, those worst-case scenarios – 'what's the worst thing that could happen?'. We need to think wider, we need to think about incidents that are not just relevant to our own company, but issues that go cross sector and even across the world. That scope and scale is really important, and some of these major events have also triggered global changes, as well.
"I would say 9/11 was a really good example of a major incident, at massive scale, that we probably never seen before, how that was televised and the shock that came with it. It really brought home the impact of terrorism, and again, how important business continuity is at that scale.
"When we're thinking about these threats, it's not just about business continuity but cyber security attacks as well. It's about thinking holistically, thinking much, much, much wider. It's about having resilience to all of these types of attacks and types of threats."
What is the biggest cyber threat faced by UK businesses?
"We think about cyber criminals and they're inherently opportunistic, they absolutely love a crisis. We've seen a massive increase of phishing attacks, or really preying on people's fears and emotions. So, they pretend to be your bank, they might pretend to be just offering support. They might pretend to be a charity and those types of things. It's really trying to fool you into a false sense of security, to get you to give up credentials or click on links.
"We've also seen a massive increase with regards to ransomware, specifically targeting healthcare or other critical infrastructure. I think what's interesting is that almost no company is out of bounds, they're small, large enterprises, these frontline services.
"I think there's a real psychology behind the way that cyber criminals act and the way they take advantage of the situation. It's important that we're mindful with regards to what's going on and how these changing tactics and techniques are going to continue to evolve.
"It really comes back to that, kind of, business continuity, which means constantly asking questions: 'what if somebody could get access to our systems? What if somebody could disrupt our services? What if someone could get access to our data? If that data is leaked, what's the impact of that? And therefore, where do I put my priorities?' We're no longer just talking about cyber security; we must think again and have more of a holistic response."
This exclusive interview with Sarah Armstrong-Smith was conducted by Mark Matthews.
About the Author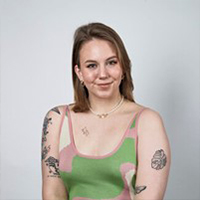 Megan has managed the internal content for Champions Speakers since 2019 when she joined the company as a Digital Copywriter. In 2020, she progressed to Content Executive and only a year later, Megan was promoted to Senior Content Executive, where she now manages the Champions Speakers YouTube channel and PR outreach.
Continuing her passion for writing, Megan started a PhD at De Montfort University in October 2021. She previously earned her Bachelor of Arts in Film & Creative Writing at the University of Essex and her Masters of Arts in Creative Writing from Teesside University. In her current course, Megan is studying the ethics of such digital forms as podcasts and is conducting metafictional research on the creative process.
In her role, Megan has interviewed several exciting names including Dr Alex George and Sir Mo Farah. She is particularly passionate about LGBTQ+ pride and female empowerment, digital media and journalism – topics Megan enjoys writing about at Champions and researching for her PhD.
July 23, 2023