By Ashley Stephenson, CTO, Corero Network Security
When it comes to cyber security, one thing that 2022 and just about any recent year will be remembered for is the succession of big names that suffered a major breach – leaving them red-faced, often out of pocket, and chastened by how often and readily the cybercriminals tore through the outer walls and seized their valuable data. Or, more accurately, the data of tens of thousands, even hundreds of thousands, of customers who had trusted them to keep their information safe. Can we expect 2023 to be any different? What will be the burning issues? And how can the mounting tide of misfortune be gradually turned back?
More DDoS records will be broken, and packet-per-second attacks will continue to rise.
The spiraling series of DDoS records will continue to be set and broken in 2023. Throughout the last 12 months, we saw multiple broken records for DDoS attack sizes in terms of packets per second. In July, a record was set when one unnamed actor launched an attack of 659.6 million packets per second. That record was broken shortly after in September when another attack achieved a new record of 704.8 million packets per second.
DDoS attacks have classically attempted to send fewer packets of larger sizes, which aim to paralyze the internet pipeline by exceeding available bandwidth. More recent record breaking attacks, however, send more packets of smaller size which target more transactional processing to overwhelm a target. In 2023, we will likely see even more records broken, as attackers deploy ever higher packets-per-second in their attacks.
More breach reports and possible personal executive blowback
The last few years have seen an explosion of data protection regulation around the world. In 2023, that will mean we'll see more breach reports as more organizations become compelled to publicly disclose these cyber-incidents.
The legal responsibility for bad corporate behavior when dealing with breaches may also be redound to individual executives. In October of last year, Joe Sullivan, former head of security at Uber, was found guilty for hiding a breach on the ride-sharing giant in 2016. This example could set a precedent for other court cases in 2023 and make data protection decisions a matter of personal legal accountability for executives.
DDoS attackers will continue to outwit legacy defenses.
The hackers will continue to make their mark as they figure out new ways to evade legacy DDoS defenses. Attack types known as 'carpet bomb' or spread spectrum, reared their head in 2022 by attacking victims with multiple small attacks designed to circumvent legacy detect-and-redirect DDoS protection or 'black hole' sacrifice-the-victim mitigation tactics.
This kind of cunning will be on display in 2023, as DDoS attackers find new ways to wreak havoc across the internet and outsmart old, legacy thinking around DDoS protection.
DDoS will still be a weapon in conflict.
Cyberwarfare has always been an aspect of conflict. In Ukraine, DDoS attack numbers exploded after the Russian invasion in February 2022 and DDoS will continue to be an asymmetric weapon in the continuing struggle. In the first part of 2022, attackers attempted to DDoS the Eurovision song contest- a live, televised event, involving 26 countries competing to win the title. The attackers' aim was to bring down the official site of the event and block the voting in an attempt to frustrate the victory of the Ukrainian contestants. And when Elon Musk decided to aid Ukraine by providing Starlink satellite broadband services, DDoS attackers took note attempting to take satellite systems offline and deny Ukraine much-needed internet services.
There is no doubt that in 2023, DDoS will continue to be a key weapon in the conflict to both paralyze key services and drive political propaganda objectives.
About the Author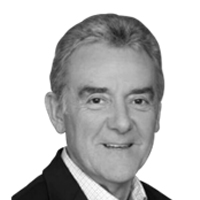 Ashley Stephenson is the CTO of Corero Networks Security. He leads Corero's global DDoS mitigation solution strategy. As CTO he drives Corero's global strategy, focusing on the company's growth by capitalizing on its market-leading real-time DDoS mitigation offerings and strong blue-chip customer base.
Ashley can be reached online at Ashley.Stephenson@corero.com and at our company website https://www.corero.com/
April 13, 2023