How to safeguard your IoT implementation to reap the benefits without the risk.
By Matthew Margetts, Sales & Marketing Director, Smarter Technologies
From mobile phones to smart grids and supply chain management, the Internet of Things (IoT) has become entrenched as an essential part of our daily lives. All these items send and receive data over an IoT network, inducing variety and volume of data in the shared space. Notwithstanding the advantages of the IoT, it also presents a range of potential security risks; risks that many traditional IT security models are unable to cope with.
In our increasingly digital world, where smart sensors can detect information from the physical world, perform specified instructions, and relay the data to other systems, the amount of generated data is constantly growing, creating new challenges in terms of scalability and security. Cyber-attacks are also a very real threat, since IoT devices open the way for hackers to penetrate connected vehicles, critical infrastructure, businesses and even people's homes.
According to research commissioned by Opengear, network engineers and CIOs agree that cybersecurity issues represent the most significant risk for organizations that fail to put networks at the heart of digital-transformation plans. The study found that 53% of network engineers and 52% of CIOs rank cybersecurity among the list of their biggest risks. When it comes to the digital transformation of networking, 70% of network engineers say security is the most important focus area, and 31% say network security is their biggest networking priority. Their concerns are justified, fueled by an escalating number of cyberattacks. CIOs reported a 61% increase in cybersecurity attacks and breaches from 2020-21 compared to the preceding two years.
With security front of mind when it comes to any networking decision, how can today's CIOs and network engineers find the most secure solutions for their IoT network rollouts?
Here are some security best practices to follow:
Securing IoT networks with a zero trust approach
With a zero trust model, devices and users are not automatically trusted. This prevents unknown entities are prevented from gaining access to a particular network. Rather, the system constantly checks and re-checks each user and user permissions when they try to access any data. Zero trust principles should be implemented at both a device level and an IoT network level to protect against vulnerabilities that may arise from IoT device manufacturer hacks.
End-to-end encryption
End-to-end encryption (E2EE) implementation prevents third parties from accessing data while it's transferred from one end system or device to another, which is crucial for an IoT network. All data should be encrypted from the point it is generated to wherever it is transmitted. When E2EE is in place, data is encrypted on the sender's system or device, and only the intended recipient can decrypt it. Data is thus secured against tampering from hackers, internet service providers, application service providers, or any other entities or services. Crucially, end-to-end encryption works in conjunction with the zero trust principle. This means that even if an "eavesdropper" were to access a network pipeline, E2EE ensures confidentiality.
Choosing RFID over GPS
When choosing a data network for IoT implementation, RFID and GPS (or a combination of the two) are common data transfer methods. Both RFID technology and GPS enabled devices face both back-end and front-end security threats, with back-end communication happening over the internet protocol. Generally speaking, back-end security protocols are well developed and less vulnerable to security threats than the front end. When comparing RFID and GPS, GPS front-end communication is more vulnerable to security threats than RFID technology. Because the front-end communication goes through multiple nodes, a typical GPS front-end communication is more vulnerable to spoofing, which is when a hacker creates a false impression about the location of the device.
An end-to-end Internet of Things (IoT) low-power radio network solution like Smarter Technologies' Orion Data Network incorporates end-to-end encryption and zero trust network infrastructure. It also has the benefit of being a private network, which means more control over traffic, confirmed capacity, and an inherent level of security.
The interconnection of all devices will result in increased automation in nearly all fields, which will lead to increases in efficiency, accuracy, and economic benefit, as well as a reduction in human intervention. The possibilities are endless, but ultimately, to reap the full benefits of the IoT, organisations need to prioritise network and device security at all levels.
About the Author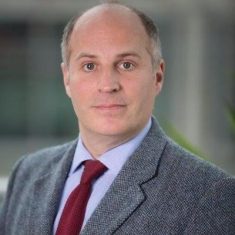 Matthew Margetts is Director of Sales & Marketing at Smarter Technologies. His background includes working for blue-chip companies such as AppNexus, AOL/ Verizon, and Microsoft in the UK, Far East and Australia.
Matthew can be reached online at https://www.linkedin.com/in/matthew-margetts-36b5181/ and at our company website: www.smartertechnologies.com
November 1, 2022