The Secure Digital Authentication of Official Documents Plays an Important Role in Times of Pandemic
By Andreas Räschmeier, CEO at Veridos
In the wake of the pandemic, governments and public authorities need smart solutions to manage the situation efficiently. Digital government solutions that enable the authentication of official documents and provide a high level of IT security have an important role to play.
The ongoing coronavirus pandemic has presented a host of challenges for governments and citizens alike. The implementation of necessary health precautions has greatly affected working environments and the ways people interact with one another, meaning many government services can no longer be carried out without digital alternatives.
While minimizing human contact helps to contain the virus, citizens are in need to gain access to authenticated sensitive documents, including health and vaccination documents. In addition, public authorities want to ensure that those documents are genuine in order to manage the crisis efficiently.
Ultimately, we believe that the only valid answer to this problem is the development of digital government services that enable secure and user-friendly issuing and verification procedures. The outcome: highly secure certificates with a visible digital seal. This allows key users, e.g. doctors or vaccination centers, to issue universally accepted, state-authorised and recognised certificates. Such services enable citizens to obtain digital documents from medical practitioners, insurance companies or authorities responsible for medical certificates, vaccination certificates or travel permits.
The use of a visible digital seal guarantees that the documents remain secure and in turn allows for a simple verification process. Since the seals are cryptographically secured, their content cannot be changed. Additionally, a visible digital seal helps governments and authorities to combat fraud, as government agencies can check who issued each seal and void seals that were issued in error. The visible digital seal is displayed in the form of a 2D barcode on a smartphone and can be scanned with another mobile device, or if preferred by the citizen, the seal can be printed and used in hard copy.
Veridos, a joint venture of the international technology group Giesecke+Devrient and the Federal Printing Office of Germany, offers such a digital solution with VeriGO® TrueSeal. Based on tried-and-tested technology, the easy-to-use platform can be rolled out quickly and customized for use. It represents a fast and secure solution for generating officially certified sensitive documents and provides a high level of security in these challenging pandemic times. The solution is great proof of the positive impact that smart digital government services can have.
While innovations in technology are the foundation of the development of digital government use cases, these new solutions must not only enable high-quality, user-friendly services, but must also guarantee the privacy and security of citizens. Liu Zhenmin, Under-Secretary-General of the Department of Economic and Social Affairs at the United Nations, has rightly stated that progress in the implementation of digital government services "is accompanied by existing and new challenges and risks, such as cybersecurity and data protection" (1).
Nowadays, there exist tools that drastically reduce security threats. Companies such as Veridos specialize in providing end-to-end solutions and services that meet all requirements for the secure collection and storage of data and information and the preservation of citizens' privacy. As citizens will get used to digital government services in the future, it is essential that they can trust the infrastructure behind these services – especially when it comes to sensitive documents like vaccination certificates.
In short, digital advancements along with a new normal have not only emphasized the importance for remote access of services but also the potential to integrate secure eGovernment services to existing trusted infrastructure and processes.
About the Author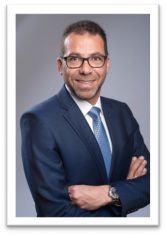 Andreas Räschmeier is CEO of Veridos GmbH, a joint venture between Giesecke+Devrient and Bundesdruckerei (Berlin). The company supplies governments and authorities with tailor-made complete solutions for secure identification. Räschmeier began his professional career at G+D in 2004, when he took over as Head of Business Development in the area of chip card security. Since then, he has held several management positions in various business sectors, including Group Vice President Sales & Marketing for the former payment division. Most recently, he was Global Vice President Operations & Global Support at the subgroup Currency Technology. He has been CEO of Veridos since November 1, 2019. Before joining G+D, the industrial engineer worked for Siemens and STMicroeletronics in France.
Andreas can be reached online at LinkedIn and at our company website https://www.veridos.com/en/home.html.
July 19, 2021