One of the biggest underground carding marketplaces, UniCC, announced it's shutting down its operations.
UniCC, one of the biggest underground carding marketplaces announced it is shutting down. The site was launched in 2013 and according to the Elliptic Threat Intel about $358 million (across Bitcoin, Litecoin, Ether and Dash) in purchases were made through the platform.
"Hundreds of millions of payment card details have been stolen from online retailers, banks and payments companies before being sold for cryptocurrency on online marketplaces such as UniCC." reads the analysis published by Elliptic Threat Intel. "These stolen cards have value because they can be used to purchase high-value items or gift cards, which can then be resold for cash. This process is known as "carding", and it has become a key part of the cybercriminal's playbook. "
UniCC reached a 30% market share after the takedown of the popular carding platform Joker's Stash in January.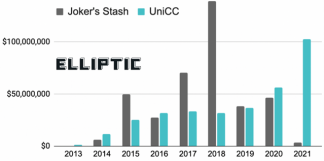 The news of the shutdown was announced by the UniCC administrators on underground carding sites in both English and Russian, they are giving 10 days to their members to spend their balances.
"Don't build any conspiracy theories about us leaving, it is (a) weighted decision, we are not young and our health do not allow to work like this any longer." reads the message. "We ask you to be smart and not follow any fakes tied to our comeback and other things,".
According to Elliptic Threat Intel team, after the shutdown of the UniCC marketplace other carding platforms will attempt to fill the gap in a market that overall surpassed more than $1.4 billion in sales with Bitcoin alone.
On the other side, the operators behind UniCC will be seeking to cash out their millionair profits.
But in recent months, Elliptic pointed out that other underground marketplaces appear to be hanging up the towel. The White House Market announced it was shutting down in October; and by November, Cannazon went dark. In December it was Torrez' turn. By early January, Monopoly Market was unexpectedly inaccessible, the report added.
"In July 2021 stolen credentials market Slilpp was seized by the FBI in collaboration with numerous European agencies after making almost $22 million in Bitcoin." concludes the report. "Nevertheless, the carding market has also seen numerous new entrants  – most notably All World Cards in June 2021, which made headlines by offering nearly three million cards for free in an early publicity stunt."
Follow me on Twitter: @securityaffairs and Facebook

Pierluigi Paganini
International Editor-in-Chief
Cyber Defense Magazine
FAIR USE NOTICE: Under the "fair use" act, another author may make limited use of the original author's work without asking permission. Pursuant to 17 U.S. Code § 107, certain uses of copyrighted material "for purposes such as criticism, comment, news reporting, teaching (including multiple copies for classroom use), scholarship, or research, is not an infringement of copyright." As a matter of policy, fair use is based on the belief that the public is entitled to freely use portions of copyrighted materials for purposes of commentary and criticism. The fair use privilege is perhaps the most significant limitation on a copyright owner's exclusive rights. Cyber Defense Media Group is a news reporting company, reporting cyber news, events, information and much more at no charge at our website Cyber Defense Magazine. All images and reporting are done exclusively under the Fair Use of the US copyright act.